High Class Escorts Zurich
Zurich – Design and Zest for Life in the Financial Centre
Our Elite Escorts in Zurich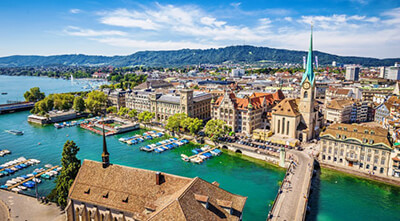 A stroll through the Old Town, a shopping tour and a boat trip
Zurich is the largest city in Switzerland and is considered, along with Vienna, to be the city with the best quality of life in the world. One of the influencing factors is Zurich´s beautiful location on Lake Zurich, on both sides of the river Limmat and surrounded by wooded hills. The city of the reformer Zwingli experienced an economic upturn leading to Zurich's role as a financial centre. The well-preserved Old Town (Altstadt) left and right of the Limmat belongs to Zurich's top tourist attractions. On the right side is the Grossmünster Church, the starting point of the reformation led by Zwingli. On a clear day a climb to the top of one of the towers will be rewarded with a magnificent view. A stroll through the Niederdorf and Oberdorf districts will bring the tourist past all of the city sights. From the left bank of the Limmat the Fraumünster Church can be reached with its famous stained-glass windows by Marc Chagall. The Bahnhofstrasse which runs from the train station to the lake is ideal for shopping. The closer to the water the more exclusive the shops with their luxury brands of accessories, jewellery and watches. This route also passes the Confiserie Sprüngli with its famous chocolate specialities. Romantics might want to take a walk along the embankment promenade or book an evening lake cruise.
Art, Art and Art!
Famous artists who once lived in Zurich include Max Frisch, Hermann Hesse und Thomas Mann. Art and culture still play a significant role in the life of the global city which along with London and New York, has developed its own centre for contemporary art. The gallery density is high! Other notable art museums include the Kunsthaus Zurich, the Museum for Contemporary Art and the Rietberg Museum.
Sleep and Party
The residents of Zurich their guests have the choice: either sleep or party! Both are possible … and at the highest standard. Bankers and techno fans alike can dance the night away in the 500 bars, clubs and discos in the city. The most popular districts for going out are the Niederdörfli, the Langstrassenquartier and Zürich-West. A unique stay awaits the guest residing at the noble hotel Baur au Lac-Hotel. Set in its own beautiful park it also houses the fine restaurant Rive Gauche along with an American-style bar. In the art nouveau hotel Eden au Lac the guest can enjoy a sundowner on the rooftop balcony of the hotel.
Hotels in Zurich
Restaurants in Zurich