High Class Escorts Pretoria
The seat of South African Power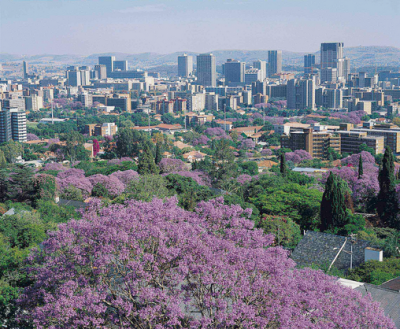 Pretoria is one of South Africa's three capitals and it sits in the North of the Gauteng Province. When you consider this is where the Presidential Offices are located, in the Union Buildings where Mandela was first welcomed to power, Pretoria really is the Nation's seat of power. Whether you're passing through here on business, or planning to stay a little longer, you will be impressed with the amount of quality accommodation there is on offer. As usual we are aware of our client's preferences and have some excellent recommendations for you.
If you get much down time, the very favourable climate in Pretoria provides a welcome opportunity to indulge in a round or two of golf. Pretoria Country Club is one of the best in the country, located in the affluent Waterkloof suburbs of the city. There's no shortage of golf actually: Centurion, Woodhill and Wingate country clubs are also very good. South Africa is one of the few places on earth that can offer you a golf course or a safari on which to top up your tan! Although Pretoria has many ways to keep you entertained, one of the best times to visit (in our personal opinion) is during October and November, when the Jacaranda trees are in full blossom; it's truly magnificent.
If you're staying in Pretoria for any length of time, you will no doubt be in need of some company. Our city guide to Pretoria has been specifically designed to give you some ideas about: leisure activities, attractions, accommodation and places to eat and drink. However, we have chosen places that would be significantly complemented by an exciting rendezvous with one of the beautiful escorts we represent here.
Hotels in Pretoria
Colonial Excellence in Pretoria
Illyria House
327 Bourke Street
Muckleneuk Hill
Pretoria
City of Tshwane
0002
Tel: +27 12 344 6035
Fax: +27 12 344 3978
Illyria House is a unique, luxury hotel with marvellous views across the city; including the stunning Jacaranda trees when they're in blossom. This hotel never fails to evoke a certain romance and fairy tale ambience in everyone who stays here. From the stunning courtyard dining areas and beautifully lit pools, to the secret garden spa treatments and the colonial antiques and art, you will find everything has been moulded and carefully contrived to give you the feeling of absolute luxury. Dining is a superb experience and the menus are impressive. You are however, also given way to choose practically anything you want, whether it's on the menu or not; and why not end dinner with a glass of fine cognac and a cigar on the veranda? Illyria House needs to be experienced to be fully appreciated, but do take a look at their website for more information. You can request everything to be taken care of prior to your arrival and even book yourself a selection of local tours.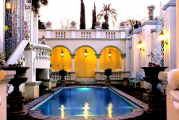 Very Chic!
Protea Hotel Fire & Ice - Menlyn
213 Thys Street
Summit Place Precinct (corner of N1 North and Garsfontein off ramp)
Pretoria

Tel: +27 12 471 8600

If ever there was a hotel to spend time with a luxury escort then this is the place. If it's location that's important to you then Protea Hotel Fire & Ice Menlyn won't disappoint. Not far from the luxurious interiors of this hotel you'll find the very popular Menlyn Mall and if it's diplomatic business you're in Pretoria for, you are close to all the embassies. All the luxury rooms are equipped as you'd expect, including, fully stocked fridges, desks and laptop sized safes if you need to work; and the suites are of course even better. If you choose to eat in the hotel, there's a diverse range of cuisine on offer, from snacks to gourmet dining. Overall The Protea Hotel Fire and Ice Menlyn is an excellent hotel with plenty to do. Conference facilities are very good here too, and with the many events and promotions on each week, there's opportunity for everyone to socialise in the evening. Of course, you may just prefer some female company!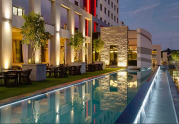 Restaurants in Pretoria
A Taste of Bistronomy
La Madeleine
122 Priory Road,
Lynnwood Ridge,
Pretoria, Gauteng

Tel: +27 (0) 12 361 3667
Fax: 086 594 3025
Email: info@lamadeleine.co.za
The French have always known how to create delicious and exciting food, but La Madeleine takes this to a whole new level. Since the restaurant's inception back in the 1990's La Madeleine has enjoyed critical acclaim, including: Eat Out's Restaurant of the Year and American Express Fine Dining Platinum Award for many years. The menus fuse together classic French and Belgian dishes that will have your taste buds quite literally dancing. It's not surprising when you have chefs as notable as Daniel Leusch, who has more awards than we have space to mention here. Atmospherically you couldn't ask for a more romantic place to eat. La Madeleine is rustic in feel, very homely and nicely lit. Various accoutrements adorn the walls and the décor is very tasteful indeed. Each table seems to have its own ambience, and we sincerely doubt that any two visits here will feel the same. Enjoy truly traditional and altogether French gourmet cooking at its finest, in a beautiful restaurant!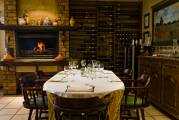 Perfect dinner for two!
Signature Restaurant - Brooklyn
Shop 2, Brooklyn Bridge
No. 570 Fehrsen Street
Brooklyn, Pretoria
0181

Tel: 012 941 1277
Email: Brooklyn@signaturerestaurant.co.za
Signature have a very good name in fine dining, and if you're in Pretoria and would rather get out of the hotel for a while, this is one of the best luxury restaurants you could choose to take your companion. The restaurant itself is tastefully decorated, with just the right lighting for a romantic date, but it's the choice of atmosphere that deserves special mention. If you're a fan of music, Signature at Brooklyn offer you some light jazz played live on stage whilst you enjoy dinner. Alternatively you can choose to dine on the spacious patio with wonderful views of the gardens below and the subtle scent of fresh herbs in the air; those used by the restaurant's very talented chefs. The menus are seasonal and offer some delightful, award winning creations. Visit the website for more information.