High Class Escorts Hanover
Our Elite Escorts in Hanover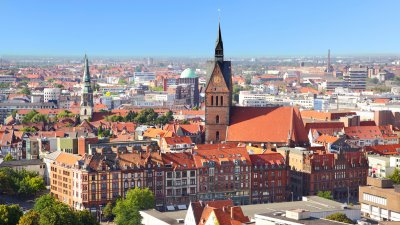 Hanover has a number of attractions and it would be futile to list them all here. However, you are probably more familiar with Hanover as being host to the CeBIT computer expo and the Hannover Messe industrial technology trade fair. These two events attract thousands of visitors to the city every year and a thriving industry has grown around them. This has more than likely contributed to the tourist and hotel trade in the city.
Set upon the River Leine, Hanover is a city of wondrous beauty and cultural interest. It remains Germany's 13th largest city and is still very popular tourist destination, despite it not being too common. Places like the Royal Gardens of Herrenhausen are remarkably popular and a must see. As are the New Town Hall and Hanover Zoo, which is proud to be one of the best Zoo's in the whole of Germany; or indeed Europe! The architecture is stunning almost everywhere. The Old Town is well worth a visit, particularly the Kreuz-Church-Quarter, where you will find some lovely little places that will take you back in time.
Hanover is not only a wonderful place to visit as a tourist, those who live and work there enjoy the city on a daily basis. It's bustling with bars and restaurants; both traditional and modern. Hanover has its share of highly intelligent and professional people and it caters very well for their tastes. it's also home to some of the world's most reputable universities and medical schools. We are certain, no matter what length of time you spend in this wonderful city, you will always find something to cater to all tastes. Not to mention the wonderful company Venus have available to you in Hanover of course! Read more in our guide to discover some recommended restaurants and hotels.
Events & Fairs in Hanover
Europe's Business Festival for Innovation and Digitization
11. - 15. June 2018
The CEBIT, Europe's business festival for innovation and digitisation welcomes you to the halls of the Deutsche Messe Hanover. We can recommend many models and escorts in Hanover and all over germany. If you want to enjoy a few more pleasant hours after a successful day at the fair, book one of our beautiful Venus escorts.
CEBIT 2018
Fairgrounds of Deutsche Messe
Messegelände
D - 30521 Hanover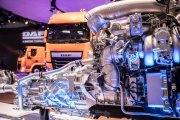 The future of logistics!
20. - 27. September 2018
At the IAA technology firms, the automotive industry, service providers, startups and disruptors get together to shape the future of logistics.To the fair after party you can invite one of our escorts for spending a great evening after an exciting and maybe demanding day at the IAA.
IAA Nutzfahrzeuge
Fairgrounds of Deutsche Messe
Hermesallee
D - 30521 Hanover
Hotels in Hanover
Business class accomodation in Hannover
Dormero Hotel Hannover
DORMERO Hotel Hannover
Hildesheimer Straße 34 - 38
30169 Hannover

Tel: +49 30 20213300
Email: hannover@dormero.de
A lovely, what we like to term as, "business class" hotel, right where you need it. Everything is close by, it's perfect for shopping, tourist attractions and the exhibition centre if you're in the city for that. There is are excellent gym facilities for those who like to stay in shape when they're away from home, and the business suite/conference facilities are outstanding. They really do look after you here. There are two main restaurants – a grill and a pizza/pasta bar - both serving quality cuisine in a relaxed and comfortable environment; and the Sonderbar is a great place to meet up with one of our terrific Hanover escorts for drinks!
Wyndham Hannover Atrium
Karl-Wiechert-Allee 68,
30625 Hannover

Tel: +49 511 54070
You really couldn't ask for a more peaceful, yet central location for your stay in Hannover. You see, The Wyndham Hannover Atrium is right on the borders of the largest urban forest in Europe; so you can expect to get lots of fresh air! It's also close to the airport, so it's perfect for travellers, and indeed those who like to use our international escort services! Designer interiors and elegant suites are the order of the day at The Wyndham. It really is an oasis of tranquillity in an ordinarily busy city. The restaurants and bars offer a wide choice and cater to both the traditional and more contemporary guest. The Wyndham Hannover Atrium comes very highly recommended.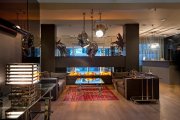 Restaurants in Hanover
Good quality, non pretentious cuisine!
Mary's
Luisenstrasse 1-3
30159 Hannover, DE
0511 30 44 816

email: restaurant@marys-hannover.de
Tel: +493044816
Mary's is a very quaint little restaurant in Hannover, that doesn't draw much attention to itself. It should however, because in our opinion it's got one of the nicest, and freshest menus we've seen for a long time. All the food is freshly prepared in a homely style. It's non pretentious, good value, excellent tasting cuisine all the way with this marvellous a la carte restaurant, and we highly recommend it. An excellent place for a romantic dinner for two!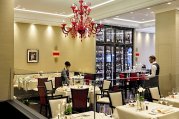 Meteora
Hamburger Allee 37
30161 Hannover

Tel: +49511 - 315237
email: info@meteora-hannover.de

This is must for all lovers of Greek food. The focus of this wonderfully unique restaurant is comfort. This extends from the décor and atmosphere, to the rustic comfort food that is offered. The choices range from classic Greek food to more contemporary takes on the traditional recipes. The staff are very attentive and polite, and they give you lots of time to decide; there is no rushing at Meteora, it's all about you and your company. So make sure you book the best company from Venus!