Escort Service Düsseldorf
Düsseldorf – Lifestyle Metropolis on the Rhine
Our High Class Escorts in Düsseldorf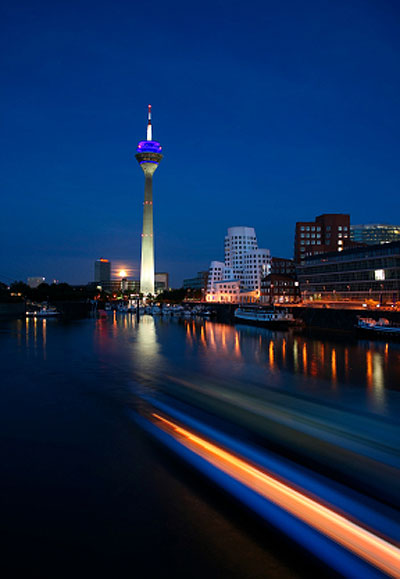 Art, Palaces and Parks
Düsseldorf is situated in the heart of the metropolitan region Rhine-Ruhr, renowned as the centre for creative industries such as art and advertising and one of the most elegant fashion cities worldwide. The numerous stages of the city are highly regarded; straight theatre is performed in the Düsseldorfer Schauspielhaus, whereas in the Deutsche Oper am Rhein and the Tonhalle visitors can enjoy masterful operas and concerts. Roncalli's Apollo Theater is famous for its variety show whilst the Kom(m)ödchen, founded in 1946, offers classic cabaret. The most important art museums are the Kunstsammlung Nordrhein-Westfalen and the museum kunst palast. The city's most famous son is honoured in the Heinrich-Heine-Institut located in the Carlstadt district. Following the 2nd World War, Joseph Beuys was actively involved in the Kunstakademie Düsseldorf. Many castles and palaces set in stunning parks allow for relaxing strolls. One of the most beautiful gardens Düsseldorf has to offer is the Hofgarten, located in the city centre.
Shop and Relax
Certain shopping streets in Düsseldorf are considered the most important "tourist attractions"of the city and an eldorado for fashion victims. The most exclusive shopping street is the world famous Königsallee, commonly known as the Kö. This splendid boulevard is lined with noble boutiques and shopping arcades offering the latest collections from top designers. Small and stylish describes the shops you'll find in the old part of the city, the Altstadt. Antique fans will be in their element in the Carlstadt district, a real insider's tip. Unwind from an exhausting shopping spree with a stroll down the Rhine embankment promenade.
Altbier, Altstadt and MedienHafen
Known as "the longest bar in the world"every year the old town centre (Altstadt) of Düsseldorf attracts millions of party-loving residents and tourists to its narrow streets and alleys. Countless litres of the local dark beer (Altbier) wet the throats of thirsty guests. The best known breweries of the very drinkable, dark, top-fermented beer operate their own brewpubs such as the Altbierkneipe Uerige, the Brauerei zum Füchschen, Brauerei Schumacher and the Brauerei Zum Schlüssel. These traditional taverns are surrounded by umpteen restaurants and bars. The young and lively Media harbour has established itself as Düsseldorf's second more elegant and trendy nightwalk. Chic bars and clubs as well as exquisite restaurants have based themselves around the famous Gehry buildings. An institution in itself, the not so chic Roberts Bistro offers the hungry visitor delicious culinary delights. The hip locals can be spotted in the Riva as well as in the much admired designer restaurant Lido.
Hotels in Düsseldorf
Restaurants in Düsseldorf