Escort Cologne
Cologne - Cheerfulness and a Cathedral
Ladies! If you want to apply as a VIP escort in Cologne, we are looking forward to you.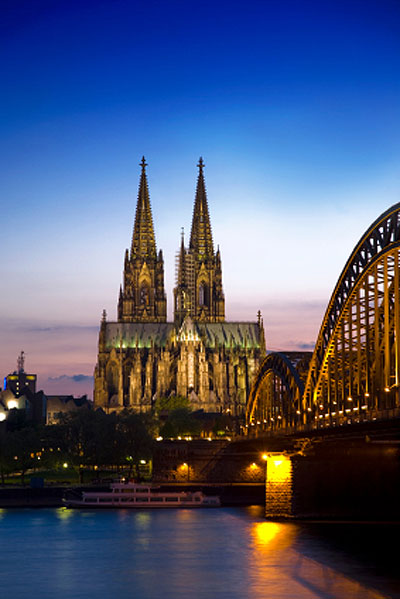 Churches, Museums and Shopping Streets
The fourth largest German city can look back at a 2000 year history. Cologne, situated on the River Rhine, is an important business location, a centre for art trade, media capital and home to the carnival stronghold. The city's landmark is the Kölner Dom (Cologne Cathedral), the largest gothic church in northern Europe with two 157 metre high towers which took more than 600 years to build. The Cathedral houses the Shrine of the Three Holy Kings and was declared a world heritage in 1996. Cologne is also home to the world famous 4711 Original Eau de Cologne in the Glockengasse, where it is produced today. Among the most significant museums to visit are the Museum Ludwig (modern and comtemporary art), the Wallraf-Richartz-Museum (paintings and sculptures from medieval time to impressionism) and the Römisch-Germanische Museum (Romano-Germanic Museum) with its archaeological collections. The Schokoladenmuseum (Museum of Chocolate) provides a sweet interlude and acquaints the visitor with the 3000 year old history of chocolate. Highly recommendable shopping streets include Ehren-, Mittel- and Pfeilstrasse with their chic designer shops, pleasant bistros, restaurants and cafés. So there are many ways to spend a nice time with a Venus Escort.
Carnival in Cologne – "Alaaf!"
The world famous Cologne Carnival is better known to the locals as the 5th season of the year. The carnival festivities reach their peak between Rosenmontag (Carnival Monday) and Aschermittwoch (Ash Wednesday). The whole city is one colourful spectacle of people in fancy dress enjoying the parades, celebrating in their neighbourhood and singing in the countless pubs. Every year millions of visitors flock to Cologne to witness the huge parade on Rose Monday. Of course Cologne has its own Karnevalsmuseum (Carnival Museum) where the visitor can discover the 200 year history of Carnival.
Kölsch Beer, Breweries and Gourmet Temples
The vivacious Cologne lifestyle is not only down to its love of Carnival but also its relationship to the local beer called Kölsch. The light-coloured, top-fermented, hop tasting beer of the Cathedral city is served in 0,2 litre glasses or so-called "Stangen" poured by Köbes (brewery barmen). Every Kölsch Brewery runs its own brewhouse where the typical delicacies of Cologne are served, in particular small, hearty or typical sweet-sour (such as Rhenish Sauerbraten) snacks. The numerous beer gardens of the city e.g. Stadtgarten also welcome many residents to enjoy a well-earned Kölsch after a long working day. It goes without saying that Cologne and its surrounding area offer the very best of gourmet restaurants and top class bars. The most renowned luxury restaurants include the Vendôme and the restaurant Dieter Müller both in the town of Bergisch-Gladbach, not to forget Le Moissonnier, La Vision, L'escalier and Zur Tant in Cologne.
Events & Fairs in Cologne
Hotels in Cologne
Restaurants in Cologne