High Class Escorts Cape Town
Cape Town - The City of Good Hope
Our Elite Escorts in Cape Town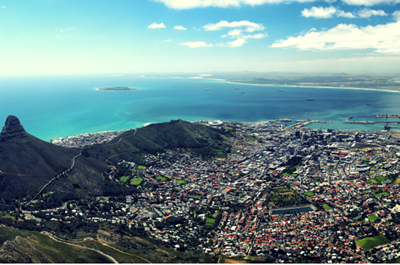 Cape Town is of course the capital of South Africa and is one of the most culturally diverse cities on the planet.Resting on the Southwest coast, Cape Town is popularised for a number of things.These include: Robben Island, home to the district six museum that details the history of South Africa's unfortunate apartheid, the prison Nelson Mandela was famously held in (now an actual museum), and of course the vast, relatively unspoiled stretches of beach along the coast.
Also, not forgetting arguably one of the most famous attractions in Cape Town, the amazing, ever so slightly imposing Table Mountain.This magnificent natural wonder, with its seemingly never-ending feed of cable cars, carrying tourists to the summit to enjoy the fantastic views of the city, gets thousands upon thousands of visitors and it's well worth a trip if you're around.
Thriving economy
Big business plays an integral part of Cape Town's economy.This makes the city the second-biggest economic hub in South Africa and it attracts businessmen and women from all over the world.This vast metropolis is currently enjoying an economic climate that's very much on the rise.It had an incredible boost with the World Cup of course, with much of its revenue coming in from construction and real estate; many exciting projects exist in the city today and we're certain the future holds many great things.
Luxury in Cape Town
All this travelling around on business is certainly rewarded in Cape Town.Whether you have some downtime from work, or you're simply trying to organise your holiday or short break, you should be aware of the all the fantastic attractions, hotels and restaurants on offer to choose from.This is the reason we have created a guide for you.We are lucky enough to get much of our information from the international escorts available in the city, and they really know what they're talking about when it comes to entertainment and luxury.
The Delaire Graff estate
Set in Stellenbosch, not far from Cape Town, the Delaire Graff estate is one of the most luxurious and prestigious places to visit.For those who are not already aware, the name Graff is synonymous with some of the world's most famous diamonds.There is a very exclusive boutique on the estate where visitors can purchase diamond jewellery and watches, handmade by their master craftsmen in London.
The views of the Stellenbosch Valley on the Graff estate are unequalled and many travellers who enjoy, and indeed are able to afford the best of the best, come here to enjoy the tranquillity it has to offer.Whether that's spending time dining in the excellent restaurant tasting the wine from the estate, or relaxing in the spa, everything oozes elegance and style.
Hotels in Cape Town
Discreet Peaceful
Belmond Mount Nelson Hotel
76 Orange Street
Gardens, Cape Town, 8001
South Africa
Tel: +27 21 483 1000.
The Belmond Mount Nelson has a fantastic location, set within some beautiful grounds.It's close enough to everything to be convenient for business in the city, yet it's discreet enough to offer plenty of peace and tranquillity from the day to day stresses of modern life and work; including not too far to Cape Town's many lovely beaches.When you're relaxing in the hotel's well established, lush gardens you will likely forget that you're actually in the middle of town at all!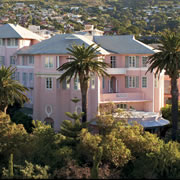 Exquisite Luxury
Taj Cape Town Hotel
Wale Street
Schotsche Kloof
Cape Town, 8001
South Africa
Tel: +27 21 819 2000
Another of the most luxurious hotels in the city and one that any of our international escorts would be happy to spend a brief stay in.The Taj presents features that are sure to capture your attention, including: stunning banqueting halls, meeting rooms, spas and a wonderful fitness centre.This architecturally beautiful building once held the South African Reserve Bank before its conversion.It's now home to arguably some of the finest suites in the city.As you could probably guess from the name of the hotel, it also specialises in Indian cuisine and we have it on very good authority that this food is indeed exquisite.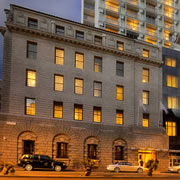 Restaurants in Cape Town
Romance and Style
The Opal Lounge
30 Kloof Street, 8001
Cape Town
Tel: +27 21 422 4747
Romance is well and truly in the air at The Opal Lounge.This is certainly the place to take a young woman to sweep her off her feet and indulge all her desires for extravagance and style; it befits one of our beautiful young international escorts.Like many other luxury restaurants these days, The Opal Lounge offers a variety of differently themed dining areas within its awesome Victorian exterior, including Persian and Far East themes. Each unique dining area is decorated to perfection to create mood and atmosphere and variedly adorned with appropriate collectables and antiques.Well worth a visit!
Private Dinning Experience - World Heritage Site
The Roundhouse & Rumbullion
Round House Road
Camps Bay
Cape Town, 8040
South Africa
Tel: +27 21 438 4347
How about dining at one of the most stunning UNESCO World Heritage Sites in the world?This is one of the places that the most discerning people in the city tend to frequent for dinner in the evening as the sun goes down.It is truly stunning in appearance, yet the service and quality of food does well to equal it.There is even a facility to dine privately, with your own customisable dining experience and ambience, whether there is a party of you, or just yourself and a special companion.This is the place to go if you're looking to impress!