High Class Escorts Berlin
Berlin - Big and Grand!
Our Elite Escorts in Berlin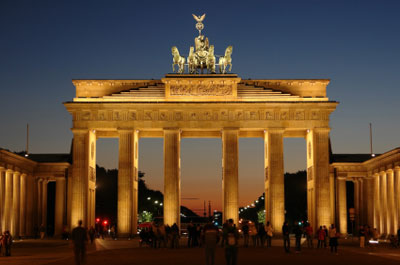 Metropolis Berlin
The German Capital is a real metropolis attracting tourists from all over the world. This vibrant city pulsates with life 24 hours a day. With the German reunification in 1990 Berlin became the capital city of Germany. From Berlin's Mitte district the Chancellor Angela Merkel governs from her office in the post-modern Federal Chancellery which can be best viewed from a boat trip on the River Spree. The city's landmark and symbol of resolved division is the Brandenburger Tor with its world famous quadriga. The Gate marks the west side of the magnificent Unter den Linden boulevard. Here tourists can visit numerous historic buildings and museums with international standing such as the Museum Island. Not far from the Brandenburger Tor is the Reichstag, seat of the German Bundestag or federal government. Year for year millions of tourists stroll through the glass dome designed by the architect Sir Norman Foster. The cradle of Berlin is also nearby: not to be missed is a walk through the historical quarter Nikolaiviertel as well as a glance at the beautiful square Gendarmenmarkt. The Friedrichstrasse in the Mitte district, as well as the Kurfürstendamm on Berlin's west side, offer a heaven for shoppers. The largest department store in Europe, KaDeWe, can be found on the Wittenbergplatz. Just a stone's throw away from the city, tourists can stroll through the park of Potsdam's Schloss Sanssouci Palace.
Luxury Hotels
Berlin's luxury hotels leave nothing to be desired – distinguished interiors in luxury suites and rooms, an excellent, discreet service, exclusive spa facilities and choice restaurants for the sophisticated diner. The majority of these hotels are located in the Berlin's new Mitte district.
The top hotels in Berlin include:
• Hotel Adlon Kempinski
• Hotel de Rome (Unter den Linden)
• Ritz-Carlton (Potsdamer Platz)
• Grand Hyatt (Potsdamer Platz)
• Westin Grand (located on the lively shopping street, Friedrichsstrasse)
• Waldorf Astoria (City West)
Gourmet Restaurants
Numerous gourmet temples across the city offer exquisite cuisine: a first-class address is the Alt-Luxemburg which holds a Michelin Star since 1988. Inconspicuous from the outside the Borchardt attracts prominent political leaders, why not have lunch in its charming inner courtyard. Further culinary delights can be enjoyed in the Grill-Royal, the new "in" restaurant on the Friedrichstrasse. The sun terrace of Lutter & Wegener offers spectacular views of the Gendarmenmarkt. An institution for artists and film professionals is the Paris Bar on the Kantstrasse on the west side of Berlin – an unforgettable experience during the Berlinale!
Bars
When the sun starts to set check out the fanciest rooftop bar in town, Solar, the best place to watch the city light up at dusk with a breathtaking 360 degree panorama view of Berlin. Indulge in opulent cocktails to the sounds of bar jazz and enjoy the perfect service in Harry's New York Bar in Hotel Esplanade.
Events & Fairs in Berlin
Consumer electronics unlimited
31. August - 05. September 2018
The IFA is the largest international trade fair for consumer electronics and consumer electronics, not only for trade visitors and dealers. The IFA is a public event that offers interested consumers a lot of information and entertainment about electronic media. For example, you can combine your visit to Berlin with an intimate meeting with one of our escorts.
IFA Berlin
Messe Berlin GmbH
Messedamm 22
D - 14055 Berlin
World's largest Fair for nutrition, agriculture and gardening
19. - 28. January 2018
The International Green Week is the world's largest trade fair for nutrition, agriculture and horticulture. Since 1926 this fair has a permanent place in Berlin's diary. The International Green Week presents products such as fruits and vegetables, fish, meat and dairy products. It offers a wide range of wine, beer and spirits combined with international specialties. Our beautiful escorts are very interested in healthy food and nutrition. If you want to invite one of our escorts you will surely enjoy a great day at the International Green Week and an exciting evening in Berlin.
Internationale Grüne Woche
Messe Berlin GmbH
Messedamm 22
D - 14055 Berlin

The world's leading travel trade show!
07. - 10. March 2018
This year 10,000 exhibitors will again be represented at the world's leading travel trade fair ITB Berlin, presenting the latest trends in tourism. ITB Berlin offers you a trend-setting range of exhibitions in all current and future relevant segments of the tourism market. Isn't this a great opportunity to plan the next holiday trip with a charming escort? You can also spend an intimate evening with one of our escorts after visiting the fair. Let yourself be seduced by a pretty escort in the capital.
ITB Berlin
Messe Berlin GmbH
Messedamm 22
D - 14055 Berlin
Hotels in Berlin
Restaurants in Berlin
Bocca di Bacco
Friedrichstraße 167/168
D - 10117 Berlin
Fon: +49 30 206 72 828

With passion and artistry, head chef Loriano Mura and his team prepare classic Italian specialities in a contemporary style: ham from Tuscan wild boars, or an octopus carpaccio, serve as the overture to mint-filled ravioli or a freshly-made spaghetti vongole.
Borchardt
Französische Str. 47
D - 10117 Berlin
Fon: +49 30 818 86 262

Located on picturesque Gendarmenmarkt is a true classic of the Berlin gastronomic scene: the Borchardt. The interior alone seems noble and elegant with the high ceilings, colourful mosaics and the dominant pillars, and this first impression is matched by the cuisine.
The Borchardt serves mainly specialties from the modern French and Italian cuisine, and the excellence is no longer an inside knowledge: VIPs and A celebrities of all vocations flock to dine here: sports stars, actors, singers, politicians and business celebreties are often part of the clientele at Borchardt.
In summer, there's a spacious outside patio on which the guest can enjoy his/her culinary treats.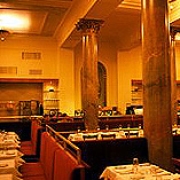 Grill Royal
Friedrichstraße 105b
D - 10117 Berlin
Fon: +49 30 288 79 288

"Grill Royal has provided a venue for the new establishment to come together and filled a social gap"
Alice Ryan (032c)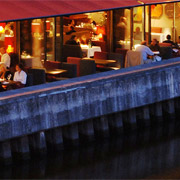 Restaurant 44
Swissôtel Berlin
Augsburger Straße 44
D - 10789 Berlin
Fon: +49 30 220 100
Berlin's award-winning restaurant – Restaurant 44 is home to Germany's chef of the year and the desired "Michelin" star.
The motto of Restaurant 44 is "tradition and evolution", a symbol for the multifaceted talent in its kitchen.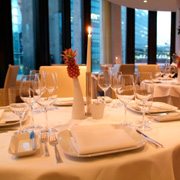 Sra Bua by Tim Raue
Behrenstraße 72
D - 10117 Berlin
Fon: +49 30 226 11 590
The Asian-inspired top restaurant Sra Bua by Tim Raue at Hotel Adlon Kempisnki offers exceptional cuisine and ambience for a romantic evening for two. Japanese-inspired interior and culinary specialties with the handwriting of star cook Tim Raue, make the Sra Bua a restaurant that should not be missed in Berlin.