Berlin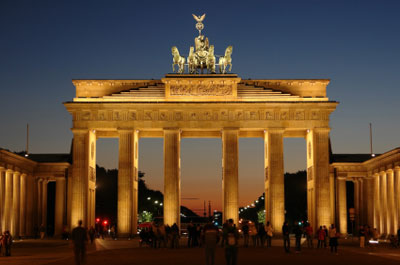 Metropolis Berlin
The German Capital is a real metropolis attracting tourists from all over the world. This vibrant city pulsates with life 24 hours a day. With the German reunification in 1990 Berlin became the capital city of Germany. From Berlin's Mitte district the Chancellor Angela Merkel governs from her office in the post-modern Federal Chancellery which can be best viewed from a boat trip on the River Spree. The city's landmark and symbol of resolved division is the Brandenburger Tor with its world famous quadriga. The Gate marks the west side of the magnificent Unter den Linden boulevard. Here tourists can visit numerous historic buildings and museums with international standing such as the Museum Island. Not far from the Brandenburger Tor is the Reichstag, seat of the German Bundestag or federal government. Year for year millions of tourists stroll through the glass dome designed by the architect Sir Norman Foster. The cradle of Berlin is also nearby: not to be missed is a walk through the historical quarter Nikolaiviertel as well as a glance at the beautiful square Gendarmenmarkt. The Friedrichstrasse in the Mitte district, as well as the Kurfürstendamm on Berlin's west side, offer a heaven for shoppers. The largest department store in Europe, KaDeWe, can be found on the Wittenbergplatz. Just a stone's throw away from the city, tourists can stroll through the park of Potsdam's Schloss Sanssouci Palace.
Luxury Hotels
Berlin's luxury hotels leave nothing to be desired – distinguished interiors in luxury suites and rooms, an excellent, discreet service, exclusive spa facilities and choice restaurants for the sophisticated diner. The majority of these hotels are located in the Berlin's new Mitte district.
The top hotels in Berlin include:
• Hotel Adlon Kempinski
• Hotel de Rome (Unter den Linden)
• Ritz-Carlton (Potsdamer Platz)
• Grand Hyatt (Potsdamer Platz)
• Westin Grand (located on the lively shopping street, Friedrichsstrasse)
• Waldorf Astoria (City West)
Gourmet Restaurants
Numerous gourmet temples across the city offer exquisite cuisine: a first-class address is the Alt-Luxemburg which holds a Michelin Star since 1988. Inconspicuous from the outside the Borchardt attracts prominent political leaders, why not have lunch in its charming inner courtyard. Further culinary delights can be enjoyed in the Grill-Royal, the new "in" restaurant on the Friedrichstrasse. The sun terrace of Lutter & Wegener offers spectacular views of the Gendarmenmarkt. An institution for artists and film professionals is the Paris Bar on the Kantstrasse on the west side of Berlin – an unforgettable experience during the Berlinale!
Bars
When the sun starts to set check out the fanciest rooftop bar in town, Solar, the best place to watch the city light up at dusk with a breathtaking 360 degree panorama view of Berlin. Indulge in opulent cocktails to the sounds of bar jazz and enjoy the perfect service in Harry's New York Bar in Hotel Esplanade.
Escort Services in Berlin