High Class Escorts Basel
Basel - Art and Culture Unlimited
Our Elite Escorts in Basel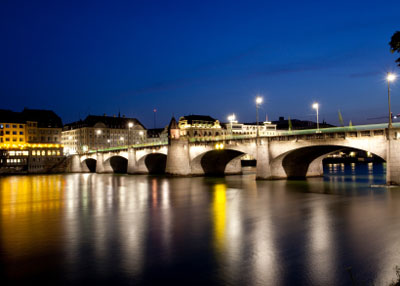 Centre of Contemporary Architecture
Basel lies in the centre of the idyllic border triangle of Switzerland, Germany and France and is inspired by the Rhine River which flows through the city. Basel, where the sun often shines, is the third largest city in Switzerland. The centre of Basel is known as the Altstadt or Old Town based around the Marktplatz (Market Square) inviting visitors to explore its narrow lanes and alleys. The Basel townscape also boasts an exciting and modern side: international celebrity architects have left their mark by making Basel an important centre of contemporary architecture. A fine example is the building which houses the unique art collection Fondation Beyerler based on the designs of Renzo Piano. This leads us to Basel's second focal point – art. Art lovers from all over the world flock to the most important world fair of the international art market, Art Basel. A visit to the Kunstmuseum Basel allows the visitor to marvel at the oldest municipal art collection in the world. For further inspiration, the visitor can explore any of the 40 or more museums Basel has to offer.
Historical Hotels and Restaurants
As a trade fair city Basel has an extensive choice of hotels to choose from with an above-average number in the four- to five-star category. One hotel full of history is the luxury hotel Les Trois Rois beside the Mittleren Brücke directly on the bank of the Rhine. It is one of the oldest documented hotels in Europe. Famous personalities such as Napoléon, Goethe, Thomas Mann and Picasso, as well as the Rolling Stones have enjoyed the hotel's legendary hospitality in the past. Among the notable historic restaurants in Basel are the Restaurant Atlantis on the Klosterberg, the Hasenburg and the Gifthüttli in the Old Town of Grossbasel. Dine to the highest standards at the Restaurant Bruderholz and in the Teufelhof. The Grand Café Huguenin at the Barfüsslerplatz is one of the best known coffee houses in the city.
Events & Fairs in Basel
The premier international art fair
14. - 17. June 2018
The Art Basel in Basel brings the international artworld together, with 291 of the world's leading galleries showing the works of over 4,000 artists. A full program of artworld talks takes place each day. Exhibitions and events are also offered by cultural institutions in Basel and the surrounding area, creating an exciting, region-wide art week.
Art Basel
MCH Swiss Exhibition (Basel) Ltd.
Messeplatz 10
CH - 4005 Basel