High Class Escorts Baden-Baden
Baden-Baden – Enjoy the Good Life
Our Elite Escorts in Baden-Baden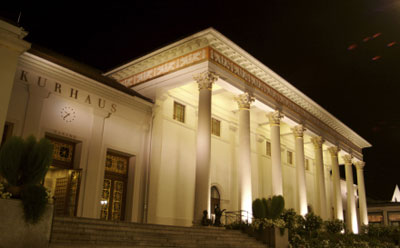 Kurhaus, Casino and Festival Theatre
In order to avoid confusion the town name "Baden" was always supplemented with "in Baden" hence the double name Baden-Baden. Nowadays, the former royal capital is known as a distinguished spa town and an international festival town. The townscape is an outstanding example of spa architecture from the 19th and 20th centuries. Baden-Baden's landmark and glamorous centre is the Kurhaus with the famous Casino, reflecting the elegance of the Belle Époque. Whether it's attending a lavish ball, savouring a delightful meal, walking in the well-tended spa gardens, shopping in the elegant colonnades or enjoying concerts in the mussel-domed outdoor stage – everything at the highest standard is possible. The pompous casino with its 250 year history, where the gas candelabra are still traditionally lit by hand, is considered one of the most beautiful casinos in the world. Top stars of the international classical music stage such as Placido Domingo or Anne-Sophie Mutter delight audiences in the Baden-Baden Festival Theatre, the second largest opera house in Europe boasting world-acclaimed acoustics. The Museum Frieder Burda houses a significant collection of modern art in a building designed by the renowned New York architect Richard Meier. The life work of Carl Fabergés is honoured in the form of a museum of the same name, where visitors can admire precious jewellery as well as the famous Fabergé Easter Eggs which once belonged to the Tsar family. Visitors have the perfect opportunity to relax and unwind in the parks and gardens while strolling past the lemon and orange trees and noble roses.
Hotels, Restaurants and Bars
Brenner's Park Hotel & Spa is intrinsically linked to the name Baden-Baden. Visitors here enjoy perfect luxury only associated with the five star superior category.From a culinary point of view Baden-Baden offers indulgence pure – from the glass of champagne overlooking the Kurhaus to the candlelight dinner in the gourmet restaurant J.B. Messmer through to the hearty Baden cuisine in one of the local traditional bars. Dancing, music and cocktails can be enjoyed in the Equipage in the Kurhaus.
Hotels in Baden-Baden
Brenner's Park-Hotel & Spa
Schillerstraße 4-6
D - 76530 Baden-Baden
Fon: +49 7221 900 0
Fax: +49 7221 387 72
For more than 135 years now, Savoir Vivre is well established at Brenner's Park-Hotel & Spa. The Grand Hotel is situated next to the expansive grounds on the Lichtentaler Allee and provides selected interior, ever-innovative offers and individual attention for you.
We would be delighted to welcome you at our hotel.